To Register: Please email metromuttz@cogeco.ca with your name, mailing address and all phone numbers. Plus your dog's name/age/breed. Once received, an email will be sent with deposit/payment information.  Please note that level one is the place to start if you're new to Metro Muttz dog training programs. A final email confirmation will go out a day or two prior to each class starting with the details, directions and what to bring.  Classes are held at the Allanburg Community Centre. 6 week programs are $240 and workshops are $35
2022 Summer Programs and Workshops
To Register: please email metromuttz@cogeco.ca with your name/address/phone number plus your dog's name/age/breed.  Please let us know which class you're interested in, (along with a second choice for level one) 
**Summer programs will Open for registration  Monday June 20th at 9am**
Metro Muttz 6 Week Summer Programs
June 28  July 12, 19,  Aug 9, 16, 23
5pm Level One Obedience
6pm Puppy Obedience
7pm Level Two Refresher
8pm Level One Obedience
Workshops
July 26
6pm Recalls
7pm Door Crashers and Nose Boppers
8pm Puppy Power Hour
Aug 30
530 Basic Grooming Workshop
700 Intro to Scent
800 Puppy Power Hour
Level One Obedience
Our level one obedience classes are designed for any dog starting training with Metro Muttz regardless of age or training level.  
In this program, will practicing all of the basics (sit/down/stay/walking on a loose leash, under distractions, door crashing etc)
 A good relationship with your dog is the key to successful dog training!  We will incorporate many exercises into the program that will help you achieve that relationship (no one wants to "fight" with their dog for attention or obedience) We put a huge emphasis on the "recall word" increasing the chances that our dogs will come the first time, every time.
You will learn how to teach your dog to have impulse control ( I.e. Not bolting out a door when it opens, not jumping up on people when they're excited, barking, begging for food, stealing food/objects, reacting/barking at other animals or people etc)  If needed, we can also help you with issues such
digging/barking/mouthing/housebreaking/etc.
Level Two Obedience
Level two obedience will offer a chance to refresh and build on skills from level one, along with learning new skills each week. Level two changes every time we run it as it is based on the needs of the dogs taking the program. Some exercises we will incorporate are:
*Games for self control/jumping up/door crashing
*Games and drills to proof our recall both on and off leash
*Formal obedience drills, heeling, fronts, finishes,
*Off leash work, heeling, hand signals and verbal cues from a distance 
*"Thinking Games" such as retrieving, shaping and tricks
*Out of Sight stays and recalls 
*Heeling and focus work under distractions
Level Three Obedience
We kick things up a notch in level 3! We will be proofing, refreshing, and building on skills from both level one and two....working both on and off the leash.  We will work on longer duration for stays and out of sight, attempt new challenges for our recall and introduce the drop on recall/recall over jumps and distractions.  We will work on games to teach and challenge their retrieve, intro to scent, trick challenges and much more!!
Agility Fun and Foundations
Agility is a fun obstacle course for dogs. The class is a great intro to the sport, a class for dogs just starting or owners who would just like a fun night out with their dog. Each week we will work on handling skills and crosses on the flat.   Your dog will get to work equipment such as tunnels, balance discs, ladders, and planks, wobble boards and more! 
Heel Work and Attention
This program is all about heads up heeling.  Your dog will learn to have eyes on you no matter the distraction. We will be fine tuning skills for both the handler and dog for heeling, turns, and speed changes. 
Rally Obedience
Rally is a program for dogs and their owners. Dog and handler use directional signs to go through a numbered course within an allotted time. Rally goes beyond basic heeling by interspersing over 40 obedience movements with the sits, turns and paces of traditional heeling. In our program we incorporate courses from multiple organizations. Be prepared to have fun!
Intro to Rally Obedience
This program is for dogs that have completed level 2 obedience. This class will challenge you with new skills, work on focus and attention while heeling, and learn all of the basic signs in rally obedience. This is a great option for someone looking to continue to practice and learn now obedience skills in a fun way! "Skills for Rally" workshop is included as a week in this 4 week program.
Scent Detection
Scent detection is a fun game of hide and seek for your dog where they have to use their nose to find a hidden scent. It helps calm excitable dogs, builds drive and confidence and provides you with an easy low impact way to mentally stimulate your dog.
Puppy Power hour Puppy Power Hour is the best hour for puppies under 8months of age.  This class is a great addition to level one obedience! ALL packed into one hour of PUPPY FUN!!!
Each class includes the following:
~Puppy Manners and games for impulse control
~Puppy agility equipment for fun, confidence and body awareness
~Socialization for your puppy with new people along with massage techniques and learning to be handled
~Playtime with the other puppies
Agility Programs For dogs that have completed obedience and indoor agility with Metro Muttz. Dogs will be working on running courses (or starting to) and will need to be able to work off leash around other dogs in an arena. Classes for novice to advanced. 
Flyball
Flyball is a team relay race for dogs. The course consists of four hurdles and a flyball ball box. Each dog must race over the hurdles to the box where the dog must catch a tennis ball and race back over the hurdles with the ball. This class is designed to give your dog a fun, recreational introduction to the game and tire them out in the process. It is a fast paced game that dogs love and they dont need to be "ball crazy" to love it!
Workshop Descriptions
RELIABLE RECALL  Does your dog come when called?  only when they want to? Do they have trouble coming away from distractions such as other dogs or something on the ground? This class will give you the skills you need to work on getting a truly reliable recall, even in tricky situations. Learn games to play that will increase your dog's motivation and drive to turn on a dime and race to you when you call! Join us for an evening of training and proofing your recall!!! 
Fun and exciting games and drills that are not offered in our regular obedience classes!  Recall workshops are always a little different each time they are held.
CALM CANINES Reactive, excited or nervous around other dogs?  Nervous of people?  Too excited when guests come over?  Does your dog lack self control when around food, toys etc?
 Calm Canines will give you the tools and skills to help your canine calm down in the situations you need it the most.
Along with the training skills this class will also feature massage techniques. Calm canine class will help with self-control and teach your dog to settle and relax.
SKILLS FOR RALLY OBEDIENCE A sign-free workshop! We will be working on "fine tuning" and proofing our heeling, speed changes, fronts, back ups, stands, moving stands/downs, along with handling skills, start up routines and more!! This workshop is for those new to rally or advanced students.
K9 FITNESS Learn new and exciting exercises to keep your dog in shape, build muscle, body awareness, help prevent injures, and tire them out! We will be using a variety of "FitPaws" equipment and many other "toys" from our toolbox. We will cover various stretches and conditioning exercises you can work on at home...even if you don't have access to the equipment.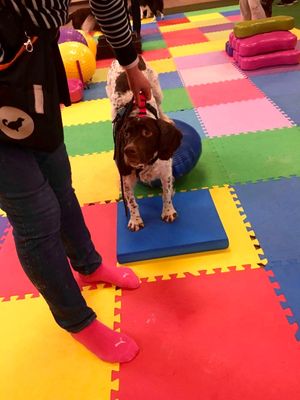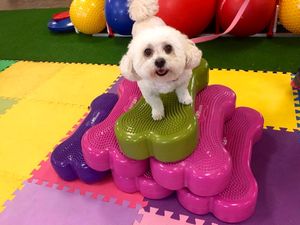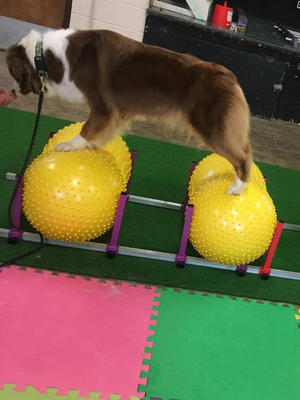 FREESTYLE Open to dogs who have completed level 1 obedience. Freestyle-also known as musical freestyle, freestyle obedience and canine freestyle-is a modern dog sport that is a mixture of obedience and tricks that allows for creative interaction between dogs and their owners.
DRILL TEAM Open to dogs who have completed level 2+   Get ready for some laughs and a good time! Join our team of handler/dog teams as we practice our heeling, stays and other obedience skills. We take these skills and create a routine. The choreographed patterns of drill routines are often similar to marching band geometric formations, but can also be compared to a square dance or line dance as well.
DOOR CRASHERS AND NOSE BOPPERS Does Your Dog get over-excited when someone (you or a guest) comes through your front door???

Can you only open the door a crack when you are having something delivered to the door or checking for mail because if you open it all the way your dog will blast out the door and take a tour around the neighbourhood?

Does it take your dog 20 minutes to stop barking and calm down when guests arrive??

Does your dog get so excited to see you/guests that they pee out of excitement?

Does your dog jump on people when you are out in public?

Is your dog great when they have a leash on....but then a constant jumper when the leash comes off?

Learn How to create a dog that has respect for boundaries and fix all those unwanted behaviours listed above!