Congrats to our students...
Parker SJ, RPT
I got Parker when he was 6 weeks and thought I was going to drive myself mad (border collies are very high energy). I was having a melt down at Pet Smart and came across Melissa ( who walked by with her PERFECT pack of border collies and she encouraged me to work with Parker's energy not against it. After doing her puppy classes she got me into K-9 sports (we did fly ball, agility, disc dog, and dock dogs) Parker seemed to enjoy all of the sports but really took to dock dogs. Here we are almost 5 years later and jumping almost 20 feet with a personal best of 19'6''
Buddy CL1-R, CL1-H, CL1-F
Buddy has been taking agility classes for about 3 years and started in Canine Performance Events (CPE ) trials a couple of years ago. So far he has received 3 titles in Level 1 - Handlers, Fun and Standard. He only needs to get a Jackpot Q and will have all titles for Level 1. He has tried a couple of Agility Association of Canada (AAC) trials; no Q's yet but I am confident it won't take him long especially now that he has mastered the teeter!
Not only is Buddy a great agility dog (in my mind anyway) he is also a Therapy Dog with the St. John Ambulance Therapy Dog program. He has passed his test and just waiting for his "Mom" to get approval so he can visit a Senior's home in St. Catharines. With his very calm and loving nature Buddy will be a great Therapy Dog.
Maggie
Maggie, Buddy's sister, is just starting out in agility and flyball. She is definitely the athlete of the family; very fast in agility with no fears on the contacts and loves the ball and tug toys in flyball. Maggie also loves swimming and jumping in the water - definitely Dock Dogs this summer!
Alison Bradbury, Maggie and Buddy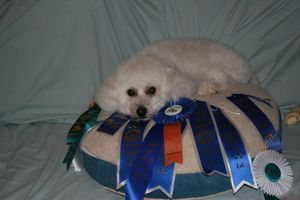 Winston has attended Melissa's Level One and Two Obediance as well as the Agility and recall classes.
A lot of fun and basic good manners.

He has recently gotten two legs for Novice Rally and hope to get his Title at the next trial in April.
Hope to also get him in Novice Obedience as well.


Pat & Winston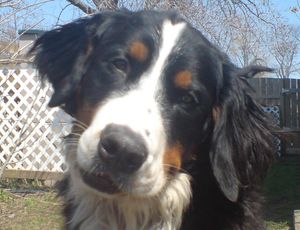 Roo is my almost 2 year old Australian Shepherd. We have been training agility and fly ball with Melissa for the past 3 seasons. I am hoping to compete sometime soon for fun, and I know that Roo will perform well. She is a great dog with a zest for life who last summer passed her herding instinct test with flying colours.

Angela Barney and Roo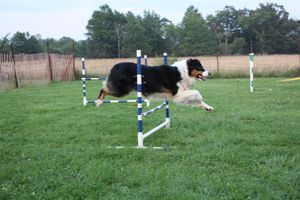 Lexi went on her first agility fun match this year and all things considered she did very well. My biggest fear was that she was going to run out of the arena and jump into some unsuspecting person's lap (her favourite thing to do) but she stayed in the arena and did all  of the equipment asked of her. Lexi loves to run and jump and I know with continued classes she will be a great agility dog. 


Silvana Cronier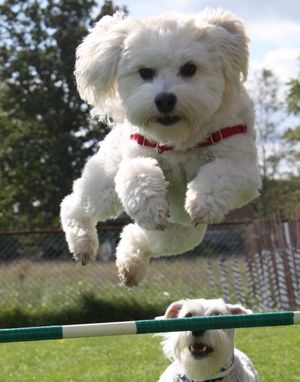 CH Bearridge Livingwater Willow - 2 1/2 yr old Female Rough Collie

Within her first year Willow became a Canadian Champion in the show ring, including winning three majors and Best Of Breed twice. Once I got her finished with being a show dog, I wanted to pursue other training with her. We have done some training in Rally Obedience, regular Obedience, Flyball, and Agility. Willow has also started some herding classes (where she is showing some natural herding instinct), and is a tested and qualified Therapy Dog with the St. John Ambulance! Our plans moving forward is to actually start competing in some agility and obedience competitions - and see how many titles we can get!!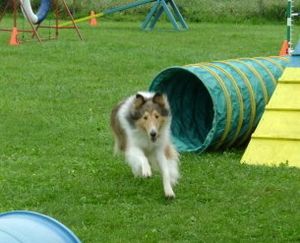 Candace Sirianni

Gracie & I have taken a couple of Melissa's agility classes. With her help I have been able to improve my handling skills and Gracie came in 2nd place in a fun match and 1st place in a Rally O fun match . 

Laura Smith